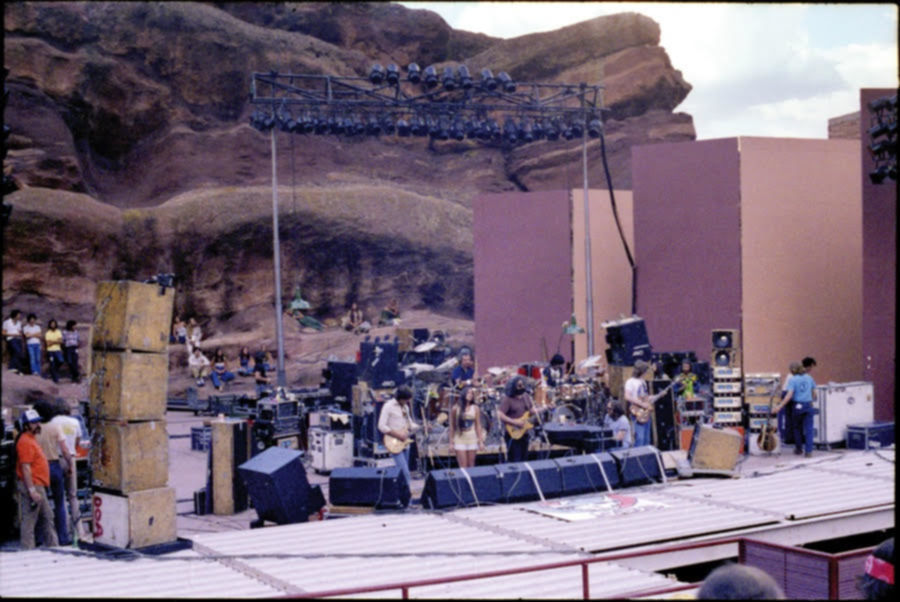 Im Mai werden Grateful Dead LIVE AT RED ROCKS AMPHITHEATRE, JULY 8, 1978 als 3-CD-Set veröffentlichen.
Über Unterbeschäftigung konnten sich die Jam-Könige Grateful Dead 1978 nicht beschweren. Mehr als 80 Konzerte spielten Jerry Garcia, Donna Jean Godchaux, Keith Godchaux, Mickey Hart, Bill Kreutzmann, Phil Lesh und Bob Weir in diesem Jahr, außerdem brachten The Dead ihr zehntes Album SHAKEDOWN STREET heraus.
Eines der Highlights der damaligen Grateful-Dead-Tournee war sicher der Auftritt im legendären Red Rocks Amphitheatre vor der Bergkulisse Colorados. Die gesamte Show aus dem Juli 1978 erscheint am 13. Mai auf drei CDs – inklusive zahlreicher Bandklassiker wie ›Terrapin Station‹, ›Sugar Magnolia‹ oder ›Ramble On Rose‹.
Als Kostprobe aus LIVE AT RED ROCKS hört ihr Grateful Dead hier mit ›Wharf Rat‹:

Im vergangenen Jahr haben sich Grateful Dead für drei Konzerte auf dem Soldier Field in Chicago wiedervereinigt. Hier seht ihr einen Ausschnitt aus der letzten der drei Shows. Außerdem gab es 2015 eine neue BEST OF GRATEFUL DEAD-Platte.
Die Trackliste zu LIVE AT RED ROCKS:
CD 1
01. Bertha
02. Good Lovin
03. Dire Wolf
04. El Paso
05. It Must Have Been The Roses
06. New Minglewood Blues
07. Ramble On Rose
08. Promised Land
09. Deal
10. Samson and Delilah
11. Ship Of Fools
CD 2
01. Estimated Prophet
02. The Other One
03. Eyes Of The World
04. Rhythm Devils
05. Space
06. Wharf Rat
07. Franklins Tower
08. Sugar Magnolia
CD 3
01. Terrapin Station
02. One More Saturday Night
03. Werewolves Of London