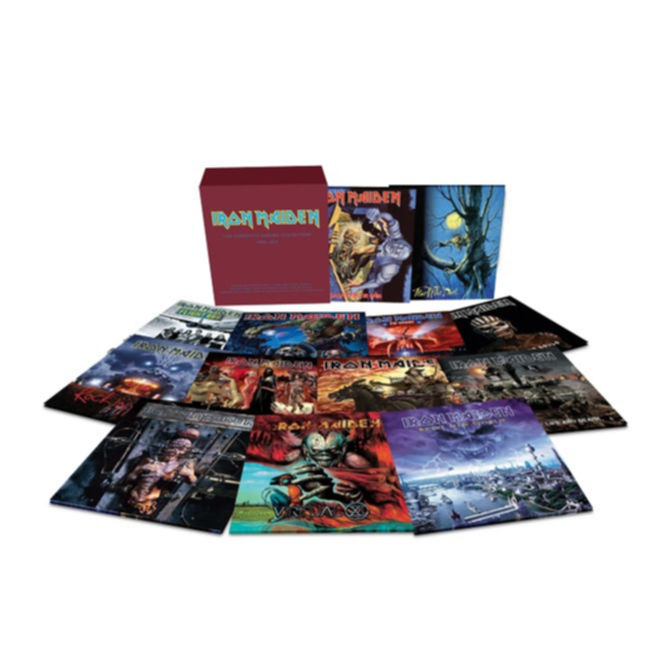 Am 19. Mai beginnt die Veröffentlichungsreihe von Iron Maidens zweiter Vinyl-Re-Issue-Offensive, dieses Mal mit ihren Alben aus den Jahren 1990-2015. Was das alles ist, verrät der neue Trailer.
2014 veröffentlichten Iron Maiden all ihre Alben aus den 80er Jahren, beginnend mit den beiden ersten noch von Originalsänger Paul Di'Anno eingesungenen Platten IRON MAIDEN (1980) und KILLERS (1981) sowie ihr großes Durchbruchsalbum und Bruce Dickinsons Debüt THE NUMBER OF THE BEAST (1982), gefolgt von PEACE OF MIND (1983), POWERSLAVE (1984), LIVE AFTER DEATH (1985), SOMEWHERE IN TIME (1986) und SEVENTH SON OF A SEVENTH SON (1988).
Am 19. Mai, 23. Juni und 21. Juli werden nun die restlichen Alben der Band aus den Jahren 1990-2015 als hochwertige 180g Vinyl neu aufgelegt. Nun hat die Band einen Trailer veröffentlicht, der zeigt, was alles in dieser eindrucksvollen Box zu finden ist.
Seht hier den Trailer zu THE COMPLETE ALBUMS COLLECTION 1990-2015:

Somewhere in Time [Vinyl LP]
Vinyl-LP im 12"-Format (30,48 cm Durchmesser)
herausgegeben 2014 in Europa von Parlophone (2564624854)
Musikstil: Heavy Metal
Iron Maiden, Somewhere in Time [Vinyl LP]
Parlophone Label Group (Plg) (Warner)