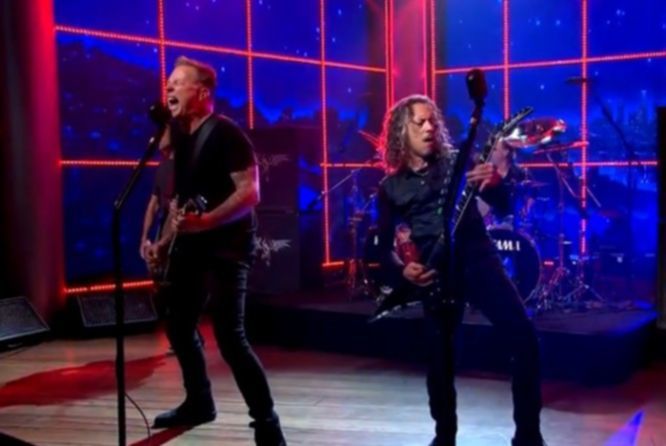 Metallica waren letzte Woche täglich in der Late Late Show mit Craig Ferguson zu Gast. Zum Abschluss gaben die Metal-Helden ›Sad But True‹ zum Besten.
Metallica haben am Freitag ihren ganzwöchigen Besuch in der Late Late Show mit ›Sad But True‹ beendet. Der Song stammt vom nach der Band benannten fünften Studiowerk von 1991. An den Tagen zuvor hatten James Hetfield und Co. ›Hit the Lights‹, ›Fuel‹, ›For Whom the Bell Tolls‹ and ›Enter Sandman‹ gespielt. Hier könnt ihr euch die Performances noch mal ansehen.
Der Anlass für den Talkshow-Auftritt der legendären Gruppe war die Veröffentlichung der Jubiläumsedition der vor zehn Jahren erstmals erschienenen Banddoku "Some Kind Of Monster".
Seht hier Metallica mit ›Sad But True‹ bei ihrem Auftritt in der Late Late Show: