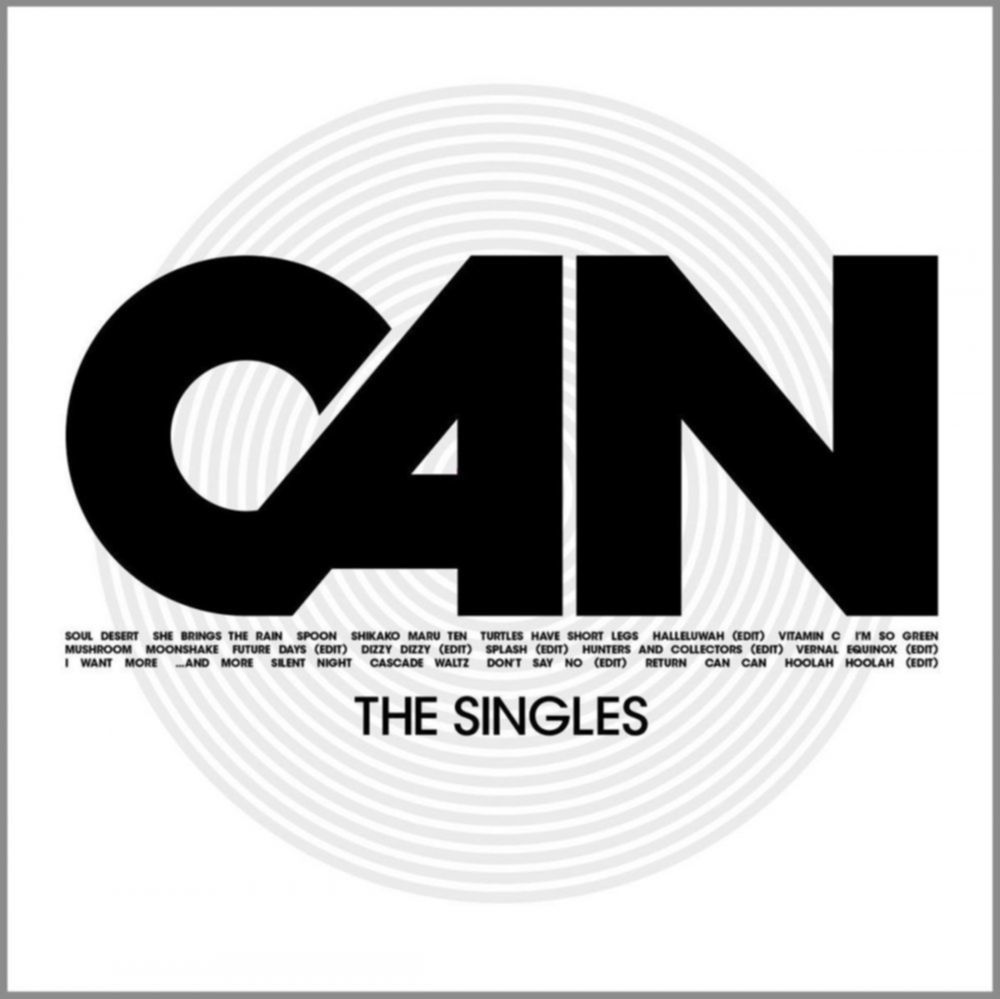 Cans Einfluss auf die globale Moderne in 23 Songetappen.
Als Can im Jahr 2003 den Echo für ihr Lebenswerk erhielten, fragten die ebenfalls anwesenden Chi­li Peppers Flea und Anthony Kie­dis verwundert, warum eine so großartige Band in Deutschland jahrelang so geringschätzig behandelt wurde. Tja, warum nur? Auch die mit 23 A- und B-Seiten üppig bestückte Kompilation THE SINGLES wird beim Mainstream-Publikum kaum zum Meinungsum­schwung beitragen.
Obwohl Can in ihrer epochalen Glanzzeit von 1968 bis 1979 mit immerhin elf Longplayern als reine Albumband galten, veröffentlichten sie recht regelmäßig auch Singles – häufig Edits längerer LP-Stücke. Etwa 1971 ›Halleluwah (Edit)‹ von TAGO MAGO als B-Seite des Non-LP-Tracks ›Turtles Have Short Legs‹, ›Moonshake‹ kam 1973 mit Titelsong ›Future Days (Edit)‹, ›Dizzy Dizzy (Edit)‹ ein Jahr später mit ›Splash‹. 1975 koppelte sich der Soundtrack ›Hunters And Collectors (Edit)‹ der ARD-Serie "Eurogang" mit ›Vernal Equinox (Edit)‹, beide stammten von LANDED. ›Don't Say No (Edit)‹ mit dem Non-LP-Stück ›Return‹ kam 1977 von SAW DELIGHT. Aus der Reihe fiel der 90er-Remix ›Hoolah Hoolah (Edit)‹ vom Reunion-Werk RITE TIME (1989).
Der reguläre Einstieg in den Singles-Markt erfolgte indes 1970 mit den atmosphärischen Kino-Sound­tracks ›Soul Desert‹ und ›She Brings The Rain‹, der nationale Durchbruch gelang mit der Top-10-Notierung von ›Spoon‹, der Titelmelodie des TV-Dreiteilers "Das Messer" von Francis Durbridge, mit Non-LP-Song ›Shikako Maru Ten‹ auf der Rückseite. Zu relativem Bekanntheitsgrad brachten es auch der 45er-Nachfolger ›I'm So Green‹ und ›Vitamin C‹ (beide aus EGE BAM­YASI), letzteres durchzog als Klangimpression die 25. Tatort-Folge "Tote Taube in der Beet­hoven­straße" von US-Regisseur Samuel Fuller. Hitqualitäten besaß 1976 der UK-Charterfolg ›I Want More‹, den Can gar in der allwöchentlichen TV-Show "Top Of The Pops" präsentierten. Komplett ausgespart bleiben in der Kollektion leider die gesuchten 68er-Raritäten ›Agilok & Blubbo‹ und ›Kama Sutra‹, noch unter dem Namen The Inner Space.
9/10
Can
THE SINGLES
SPOON RECORDS/ROUGH TRADE