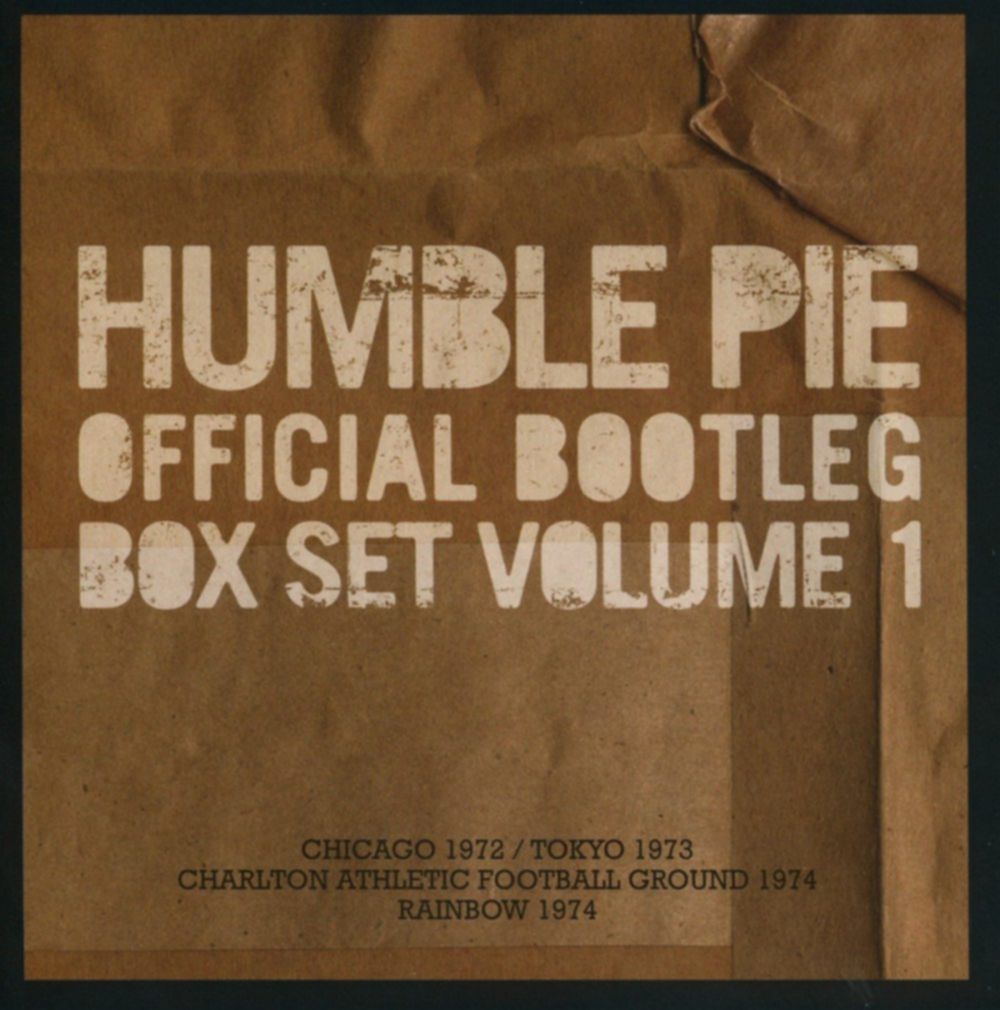 Vier Konzertmitschnitte der energetischen Brit-Supergroup.
Den Neustart im Supergroup-Format wagten 1969 Steve Marriott (Small Faces), Peter Frampton (The Herd), Greg Ridley (Spooky Tooth) und Jerry Shirley (Apostolic Intervention). Recht bald kamen sie zumindest geschäftlich vom Regen in die Traufe: Andrew Loog Oldhams Label Immediate machte nach zwei famosen Profilierungsalben Pleite. Erst der Wechsel zur US-Firma A & M unter der Ägide von Manager Dee Anthony ließ die Saat aufgehen. Auf dem Weg in die Stadion-Gigantomanie verloren Humble Pie das gegen den Ex-Colosseum-Gitarristen Clem Clempson eingetauschte Multi­talent Frampton.
An jener Stelle setzt OFFICIAL BOOTLEG BOX SET VOL. 1 an: Auf drei CDs verteilen sich vier Konzertmitschnitte. Vor- und Nach­teile führt die im Arie Crown Theatre von Chicago am 22. September 1972 aufgezeichnete Mo­­mentaufnahme der SMOKIN'-Tour im Gepäck: Der von Schreihals Marriott angeführte Rock'n'Heavy-Stil kam zwar unverändert wuchtig bis krawallig über die Bühne, was Cover-Versionen wie ›C'Mon Everybody‹, ›Honky Tonk Women‹, ›Hallelujah, I Love Her So‹ und ›I Don't Need No Doctor‹ belegen. Doch das bis zur vierten LP ROCK ON (1971) so ausgewogene Yin-Yang-Prinzip zwischen Marriott und dem virtuosen Frampton fehlte spürbar. Rehabilitation erfuhr das Schlachtschiff auf der nächsten Tour zum Doppelalbum EAT IT am 16. Mai 1973 im Shibuya Kokaido von Tokio: Mit dem Vokaltrio The Blackberries (Billie Barnum, Clydie King, Venetta Fields) im Schlepptau tendierten Humble Pie mit ›Hot'n'Nasty‹, ›30 Days In A Hole‹ und ›I Believe To My Soul‹ mehr zu Soul, Gospel und Blues.
Bei der Festival-Stippvisite auf dem Charlton Athletic Football Ground am 18. Mai 1974 sowie wenige Wochen später am 6. Juni 1974 im Londoner Rainbow Theatre ließen Humble Pie es abermals ordentlich krachen. Als Überraschung fungierte der Small-Faces-Klassiker ›Watcha Gon­na Do About It‹.
7/10
Humble Pie
OFFICIAL BOOTLEG BOX SET VOL. 1
CHERRY RED /ROUGH TRADE