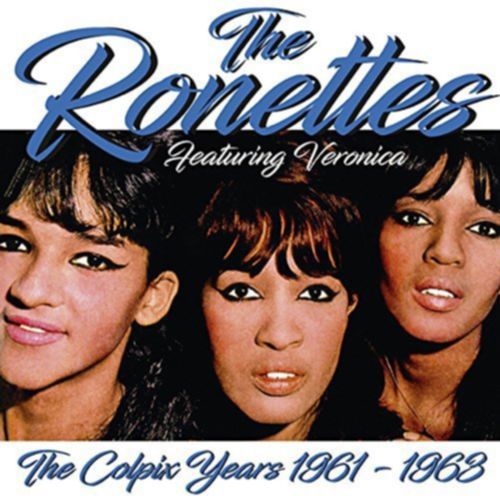 Ronnie Spectors und The Ronettes' famoses Frühwerk.
Schon in frühen Kindertagen sangen die Schwestern Estelle und Veronica Bennett mit ihren Cousinen Nedra, Diane und Elaine Talley bei jeder Gelegenheit Mehrstimmiges. Aufs Trioformat mit Veronica alias Ronnie, Estelle und Nedra verkleinert sowie als Ronnie And The Re­­latives annonciert, unterzeichneten die Mädels 1961 beim New Yorker Label Colpix Records in jenem Look, den Dekaden später Amy Winehouse für sich adaptieren sollte: toupierte pechschwarze Beehive-Frisuren, kontrastreiches Augen-Make-up und glamourös Hautenges am zarten Leib. Noch minderjährig, entwickelte sich das Trio mit der Hausband Joey Dee And The Starliters im Rücken binnen Wochen zur Sensation in New Yorks Nightclub-In-Spot The Peppermint Lounge.
Auf THE COLPIX YEARS 1961 – 1963 versammeln sich diverse Single-Veröffent­lichungen und weitere Aufnahmen, bevor Ronnie erst als Frontgirl von The Ronettes mit den Million­ensellern ›Be My Baby‹ und ›Baby I Love You‹ brillierte, um dann als Ehefrau in die Fänge des soziopathischen Genies Phil Spector zu geraten. ›I Want A Boy‹/›(What's So Sweet About) Sweet Sixteen?‹ und ›I'm Gonna Quit While I'm Ahead‹, zuerst mit ›I'm On The Wagon‹ danach noch einmal mit ›My Guiding Angel‹ als B-Seite veröffentlicht, vereinten Highschool Pop, Doo-Wop und Fifties-Rock'n'Roll-Balladen. Tendenzen hin zur Twist-Ära transportierten ›Silhouettes‹/›You Bet I Would‹, ›Good Girls‹/›Memory‹ und das erst im Nachhinein veröffentlichte ›He Did It‹/›Recipe For Love‹.
7/10
The Ronettes feat. Veronica
THE COLPIX YEARS 1961–1963
CORNBREAD