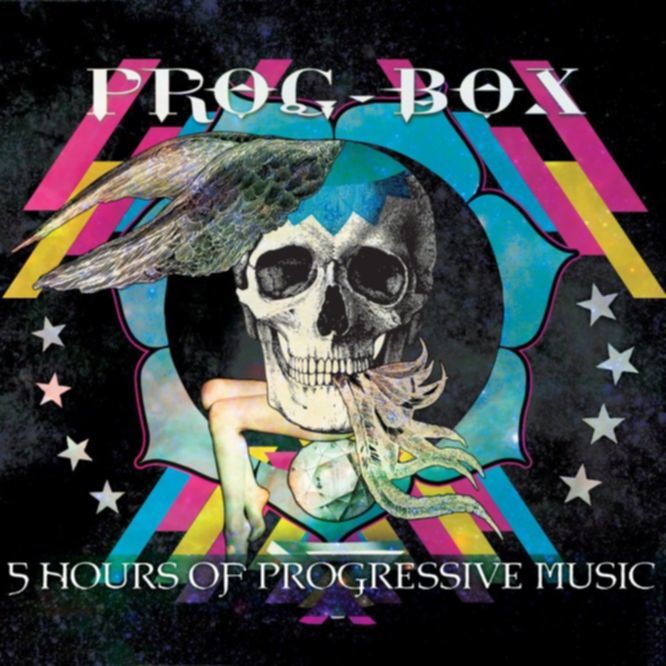 Das L.A.-Prog-Rock-Label Cleopatra empfiehlt sich mit einem 4-CD-Set.
Aufregend neu gestaltete sich die Post-Psychedelic-Phase im Übergang in den Progressive Underground. Eine Ära, die sich grob auf 1968 bis 1975 eingrenzen lässt, aber auch diverse Revivals sollten nicht außer Acht gelassen werden. Eine Epoche, als alteingesessene britische Plattenfirmen plötzlich Sub-Labels initiierten, um dem Zeitgeist Tribut zu zollen: EMI hob Harvest, Decca Deram und PolyGram Vertigo aus der Taufe. Unabhängige Companys wie Island, Chrysalis, Charisma und Virgin zogen am gleichen Strang.
Cleopatra, ein in Los Angeles Jahrzehnte später von Brian Perera gegründetes Firmenkonglomerat der Labels Hypnotic, Goldenlane, Stardust, Purple Pyramid, Deadline und X-Ray Records, setzt mit einer ganzen Reihe von Pionieren die Tradition fort. Damalige wie spätere Entwicklungen des Genres kulminieren auf 40 Tracks des 4-CD-Sets THE PROG BOX: Zum Auftakt liefern Hawkwind ›Magnu‹ im satten Steven-Wilson-Mix. Hawkwinds Nik Turner fabuliert über ›Time Crypt‹ und ›Fallen Angel STS-51-L‹. Im Duett mit Geoff Downes (u.a. Buggles, Yes, Asia) reminisziert Turner noch ›In Our Time‹.
Aus der Frühphase von Yes stammt eine BBC-Radio-Session mit der Beatles-Coverversion ›Every Little Thing‹ (1969). Nektar, einst von Großbritannien nach Deutschland emigrierte Band, steuern ›Time Machine‹, ›Show Me The Way‹ und ›Remember The Future‹ bei. Roy Albrighton, Nektar-Frontmann, gibt ein Solo mit ›Memory Tracks‹. Brainticket samt Bandchef Joel Vandroogenbroeck dürfen nicht fehlen: ›Watching You‹ und ›Places Of Light‹ stammen von der Band, ›Sign From Space‹ sowie ›High Computer Tension‹ sind Vandroogenbroeck'sche Alleingänge.
Kraut-Rock-Klassiker finden sich mit Amon Düül II (›On The Highway‹) und Tangerine Dream (›Ultima Thule Part 1 (7 Inch Version)‹). Curved Air grüßen mit dem Konzertmitschnitt von ›It Happened Today‹. Sonja Kristina, Frontfrau von Curved Air, wagt den Schulterschluss mit Peter Banks und Larry Fast auf ›Tomorrow Becomes Today‹. William Shatner, Captain Kirk von der "Enterprise", duettiert mit Steve Vai (›Ponder The Mystery‹) und Al Di Meola (›So Am I‹).
Nicht minder skurrile Kollaborationen zünden Gary Green & Tony Kaye im Instrumental ›Just Another Day‹, Steve Morse, Jim Beard, Randy Brecker & Percy Jones in ›At The Edge Of The Middle‹ sowie Colin Moulding, Rick Wakeman, Steve Hillage & Mel Collins bei ›Are We To Believe?‹. Fee Waybill, Steve Morse & Jordan Rudess betätigen sich als Brandstifter in ›Adding Fuel To The Fire‹, wissenschaftlich verquast wird's auch: In ›Molecular Breakdown‹ von Jay Beckenstein, Billy Sheehan, Gavin Harrison & David Sancious, ›Random Acts Of Science‹ von Rick Wakeman, Jerry Goodman, Nik Turner & Jimmy Haslip sowie ›The Technical Divide‹ von Alan Parsons, Chris Squire & Gary Green regiert Science-Fiction. Queensrÿche kontern zwar nur einmalig, aber mit nichts Geringerem als ›The Weight Of The World (Billy Sherwood Mix)‹.